In the last 200 years, we've gone from horse-drawn carriages to trains, to cars, to commercial flights. We can now travel to another country in less than a day time. For quite some time, the development in the field of transportation has been constant. We are using flights for around 100 years. Surprisingly, our transportation system is same as it was many years back. The future is not too far and the biggest change in transportation is coming your way.
The Hyperloop was first posed in July of 2012 by SpaceX and Tesla Motors founder and futurist Elon Musk, who unveiled the details of his idea in a blog post. According to Musk, a bullet train is lackluster, as it will be one of the most expensive and slow-moving in the world. Hyperloop can go much faster than a superficial train thanks to the elimination of most sources of friction.
Hyperloop involves two massive tubes stretching between point A to point B. There will be a sleek passenger capsules (or pods) flying within in a tube on a cushion of air. Inside of the tube, there is a partial vacuum so there's much less air to push against the vehicle. The capsules is suspended in mid air by air castor's, like a puck gliding over an air hockey table. Air castor's are much cheaper, simpler and longer lasting way to keep capsules floating as compared to induction motors. Solar panels on top of the tunnels could generate the electricity the system needs.
To reduce the pressure buildup in front of the pod, Air compressor will come to the play. It will intake excess air in the tube and exhaust it out the back which will prevent the pressure buildup due to air displacement which will slow the vehicle down. With the help of Air compressor, the hyperloop will be able to maintain it's top speed.
Hyperloop is capable of going 760 miles per hour(1,220 km/h), just under the speed of sound. It's freaking awesome. With this much speed, you can travel from Los Angeles to San Francisco within 35 minutes. You can travel from Delhi to Mumbai in 70 minutes. Even if you take a commercial flight from Delhi to Mumbai, you will not be able to cover this much distance within an hour.
Elon Musk is a busy man, so he released an outline of his idea and invited the rest of the world to take a crack at it. Two companies stepped up: Hyperloop Transportation Technologies and Hyperloop One. Hyperloop One has create some of the corridors in which the fifth mode of transportation can happen. You can havea look at it below.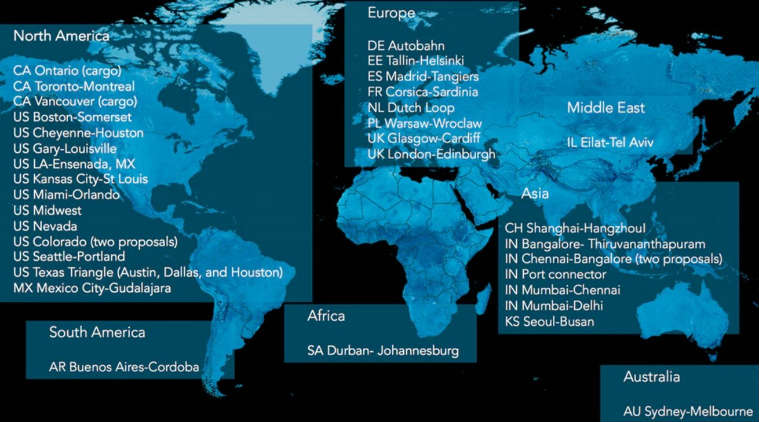 Hyperloop One is hosting an event on 28 February in India, promising to share it's views of Hyperloop in India. On the other hand, Hyperloop Transportation Technologies (HTT) is also ready to bring hyperloop in India.
"If the government is serious, India can have a hyperloop in 38 months. We are ready with the technology and we can bring the money. We just need land and a commitment from the government of India", said by Bibop Gresta
Hyperloop is the next big thing which can change the way we travel today. With two companies trying to work harder and harder to bring this system as soon as possible.
"It's happening faster than you think. We tested our motor in May, 2016, and will test the full system in early 2017. We're developing routes in five countries. The goal is to be moving cargo by 2020 and passengers by 2021." claimed by Hyperloop One.
For the latest tech news and reviews, follow TechFAE on Twitter, Facebook, and Instagram.